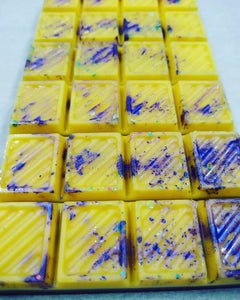 This. Fragrance. Is. Amazing. Fresh blueberries, butter, lemon, a bit of that cakey muffin scent, and sugar. It's quite honestly one of our favorite wax melts we've made yet. You owe it to yourself to try this if you like bakery-style wax melts!
Customer Reviews
BV
03/25/2021
Brandy V.
Fruity-Sugary All Around Goodness
These smell amazing. Sure, they smell like Blueberry Muffins, but they also smell like either Fruit Loops or Fruity Pebbles (boyfriend and I are conflicted about which one). I wish I had gotten more!
08/31/2020
Cat B.

United States
Foodgasm
I actually yelled "OH MY GOODNESS" when the scent melted enough to diffuse in the apartment. It's so good and smells just like its name suggests it should. I melted it all evening and my roommate thought I had been baking. We had to go buy cupcakes because all we wanted to do was eat the wax. The blueberry and lemon scents work together to make a simply scrumptious scent... I'm trying so hard to not order another 6 packs for a lifetime supply!