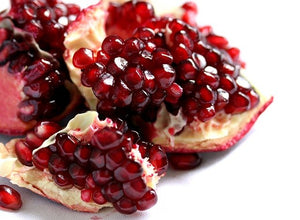 We've got no words to describe how amazing this fragrance is. Rin took a sniff and said, "Oh, wow," out loud and giggled with glee, if that tells you anything. Bright, tangy pomegranate notes are met with an herbaceous sharpness. This is one that will surprise you, perfect for gift giving and enjoyment.
Scent Notes: 
Lemon, grapefruit, mint, red currant, pomegranate, florals, rhubarb, rosemary, and cedar
Customer Reviews
01/08/2021
Kasey B.
Australia
Magical
Yer a wizard Rin! From the moment I opened the packet I was in love. The is such an amazing fruity and floral scent. Hope this can become a permanent melt. This could possibly be my new favourite (which is difficult because I love them all!). Love your work!