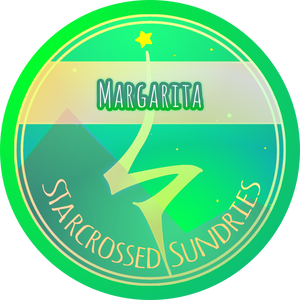 This margarita scented candle is part of our Summer 2021 collection, bringing to mind a frosty, blended drink rimmed with salt. Rin is a huge fan of lime, and loves this one. We hope you will, too!
Scent Notes


Top: Lime
Middle: Tequila, wine

Base: Lemon zest, greenery

Customer Reviews
08/24/2020
Kay .
Belgium
The most amazing scent to ever exist!
The moment I placed the wax melt in the burner and it started melting, I fell in love! This is the most amazing scent, very lemon/lime and it smells like the most perfect summer evening. Even my husband, who normally hates the candles or wax melts I choose, came downstairs to sit next to the burner and told me to order those melts again as soon as possible, which I just did. Buy this scent, you won't regret it!
06/15/2020
Cat
United States
Take me to the beach!
The lemon lime scent is strong with this candle. It instantly transports me to the beach with a frozen margarita. It's a very refreshing scent that I enjoy very much.