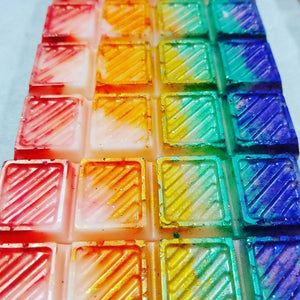 This rainbow wax melt smells exactly like a certain fruity cereal we all know and love! :) It transports Rin back to Saturday mornings in 1995 watching cartoons with their brother. They were a big fan of 'Rescue Rangers,' What about you?
Customer Reviews
09/29/2020
Rebecca R.
United States
Sugar Cereal without the Sugar!
HOW DO YOU DO IT?! This smells EXACTLY like the fruity cereal. I have recently started to eat very low carb and actually watch my food intake and sugary cereal is out. But this makes up for it! Since a lot of eating is smell this totally curbs the sugar craving!
09/15/2020
Cat B.
United States
Saturday Mornings indeed
I opened up the bag and I was hit with a wave of nostalgia. The wax smells JUST like my childhood mornings where I'd eat the rainbow sugary cereal. Just like you used to find a toy in the box, my prize was the memories that came flooding back with this scent! Saturday mornings in 1995 indeed!!!