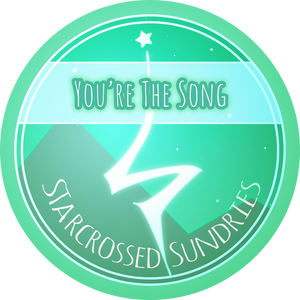 Scent Notes:
Citrus, fresh cut grass, a hint of ozone and smoke
This candle scent is based off of 'Fire and Ash,' chapter 90 of ShayaLonnie's amazing fanfiction,
The Debt of Time
. 
"The phoenix can't stop itself from burning," she whispered as though it were a secret—or maybe because it was sacred. "It will always burn. If it doesn't burn on Sunday, it will burn on Tuesday, or Thursday if it's inclined to. But it will always burn, and then rise, reborn from the ashes. No matter how painful the fire, it still sings for those who need it to."
With the last bit of hope for changing the future gone, Mia bent forward and sobbed. Pandora wrapped her arms around her and held her tight, rocking her back and forth as she cried.
"You're not the tears of the phoenix, Mia Potter. Don't you see? You're the song."
Tips for getting the most out of your candle:


Allow it to burn for

 

at least a few hours

 

the first time you light it. This creates a large enough melt pool to ensure your new candle burns evenly. 
Keep the wick trimmed to 1/4" at all times

Keep your eyes on it. Never put your candle near anything that could catch on fire. 
Burn your candle in a safe, sturdy spot that's free from drafts, somewhere it can't be knocked over by anyone or anything. 

The Finer Details:
Starcrossed Sundries candles are handmade and hand poured by us. Variations in color are completely normal, and to be expected. Enjoy their uniqueness! 

Frosting and spotting may occur due to temperature changes while your candle is in transit. Unfortunately, since we can't control the weather, we're not able to replace candles that have frosting or spotting. You can read more about our various jar sizes, candle burn times, and more in our FAQ.
Customer Reviews
09/27/2020
Amber P.
United States
An Amazing Product
The website was easy to order from. They shipped my order before the 14-24 business days time frame was up. The packaging was secure and beautiful! When I burn a candle or wax melt the scent is strong but not too strong. I bought 2 warmers just because I needed these scents all over my home. If they would make a perfume, body lotion, spray, bath bomb...I would be there for it. This is an amazing company. Order from them and you won't regret it!
06/28/2020
Meghan O.
United States
You're the Song
This candle is really something special! It brought me right to that moment from The Debt of Time, right there in that field with them! This is a beautifully mixed scent, I took it outside with me and you could smell it all around our pool area and thats just amazing! An absolute favorite!
06/15/2020
Cat
United States
Transported to the field
The scent was on point. I was immediately transported to a field with Pandora. The refreshing scent eased the stress from my body. It has a very strong citrus and grass scent that makes you think about "soap"... For the fact that the scene in Debt of Time was designed to cleanse Mia's guilt, you feel lighter just by smelling it. The white/green colors match the scent so well!