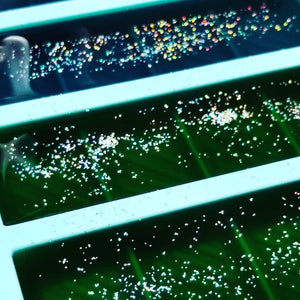 Scent Notes:
Blueberry, white freesia, wild grape, pomegranate, lily, magnolia, green vines, cashmere, vanilla sugar, and violet
There hasn't been a mom we've sold this candle scent to who isn't obsessed with it. It's light, fresh, and comforting all at once. This scent is like slipping into your favorite cashmere sweater. Soft, decadent, and welcoming against a chilly autumn day. It's by far one of our best sellers, and for a good reason! You won't go wrong with this scent.
Tips for getting the most out of your candle:


Allow it to burn for

 

at least a few hours

 

the first time you light it. This creates a large enough melt pool to ensure your new candle burns evenly. 
Keep the wick trimmed to 1/4" at all times

Keep your eyes on it. Never put your candle near anything that could catch on fire. 
Burn your candle in a safe, sturdy spot that's free from drafts, somewhere it can't be knocked over by anyone or anything. 

The Finer Details:
Starcrossed Sundries candles are handmade and hand poured by us. Variations in color are completely normal, and to be expected. Enjoy their uniqueness! 

Frosting and spotting may occur due to temperature changes while your candle is in transit. Unfortunately, since we can't control the weather, we're not able to replace candles that have frosting or spotting. You can read more about our various jar sizes, candle burn times, and more in our FAQ.